SEMI-AUTOMATIC SALTING MACHINE
It is used for salting and seasoning before entering the roasting ovens.
Electromagnetic vibrator is designed at the exit of the drum, the product prepared in this way is given to the elevator set up.
All surfaces that come into contact with the products are manufactured in accordance with the food.
Evro 506 AYO

CAPACITY

volume per batch (lt)

kg
per batch(kg)

Peanut

75

35

Pistachio

75

35

Sunflower Seed

75

25

Pumpkin Seeds

75

25

Almond

75

35

Cashew

75

30
ELECTRIC

Evro 506 AYO

380-400V/50Hz ~ 1,9Kw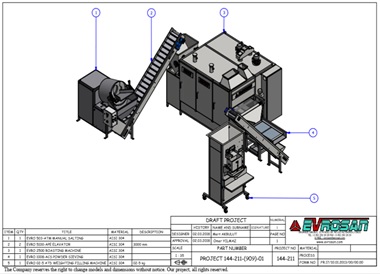 ---
All surfaces in contact with the product are suitable for food.
The salt and the mixture to be mixed into the product are given manually.
The drum can be operated forward and backward at the desired speed.